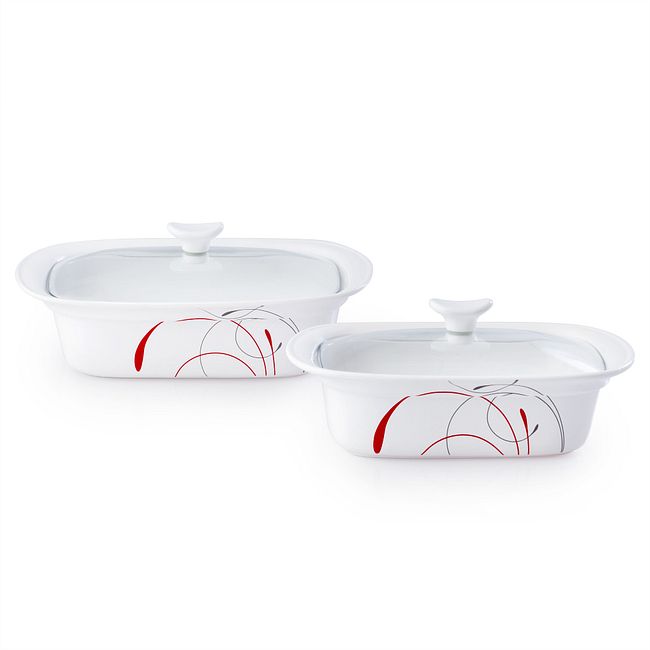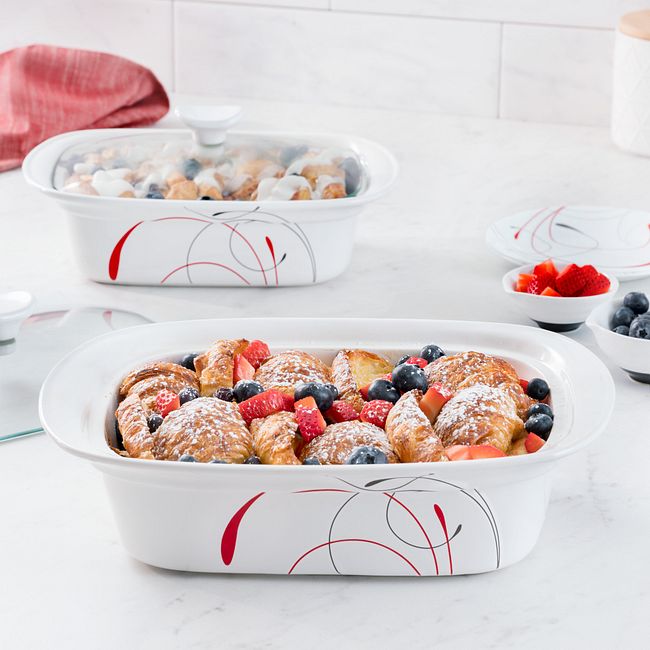 Corningware® Splendor 4-piece Casserole Set
Graceful tendrils of rich red and light gray make a splendid impression on this casserole bakeware set.
Adorned with plumes of soft gray and rich red, this casserole set brings splendid style to the table. The sleek shape has a classic look along with great durability and original oven-to-table convenience.
Durable ceramic for even heating
Resists stains and does not absorb food odors or flavors
Dishwasher, freezer, microwave and pre-heated-oven safe
1-year limited warranty
2-year limited warranty on lid
Set includes
| Item | Quantity | Dimension | Capacity |
| --- | --- | --- | --- |
| Casserole with Glass Lid | 1 | 6.5'' wide x 9'' deep x 3'' high | 2 quarts |
| Casserole with Glass Lid | 1 | 7.75'' wide x 10.5'' deep x 2.5'' high | 3 quarts |
CorningWare® French White® Cookware Use & Care
WARNING: NEVER LET COOKWARE BOIL DRY OR USE ON HIGH HEAT; Handles and knobs may get hot, Always use potholders.
DO NOT use cookware under a broiler, in a toaster oven, on induction stoves, gas grills or over a campfire.
DO NOT put in oven when self-cleaning cycle is operating;
DO NOT make repairs or use damaged cookware;
DO NOT place glass covers directly on rangetop burner, under a broiler or microwave browning element, or near any direct heat sources; DO NOT handle hot glass covers with damp or wet cloth/potholder or put on a cool or wet surface; tilt cover to direct steam away from you; Match cookware to burner size and adjust burner so heat does not extend up side of pan; Place hot cookware on heat-resistant surface.
USE
BEFORE USING FOR THE FIRST TIME hand wash cookware thoroughly with hot, soapy water, rinse and dry. HAND WASH ONLY
Use heat resistant plastic, nylon or wooden cooking utensils on non-stick ceramic finish; to prevent scratching, avoid using sharp-edged or metal utensils. Minor scratching will only affect the appearance of the pan it will not affect the performance.
Oven use: Cookware can be used in a pre-heated oven at any temperature called for in a cooking recipe when used in accordance with the Safety and Usage Instructions
CARE
HAND WASH ONLY ; To prevent warping, let cookware cool before coming into contact with water. To remove burned on food, soak before cleaning and scrub with a plastic scouring pad.
DO NOT use abrasive scouring powders, pads or steel wool.
Thoroughly wash pan after each use. Use hot soapy water to avoid staining caused by food or grease residue buildup.
Avoid long-term storage with foods. Some foods and salt can pit the surfaces and make it difficult to clean. Add salt to liquid only after it reaches the boiling point, and stir to dissolve completely. Use of high heat may cause foods to stick.
To prevent warping, let cookware cool before coming into contact with water.
To remove burned on food, soak before cleaning and scrub with a plastic scouring pad.
FEATURES OF YOUR NEW CORNINGWARE ® FRENCH WHITE ® COOKWARE
Elegant and classic fluted styling perfectly complements French White ceramic bakeware on the table
Lightweight for effortless handling
Non-stick ceramic interior for easy cleaning
Made of durable cast aluminum for fast, even heating
Tempered glass lid allows for easy monitoring of cooking levels and features durable stainless steel edge banding and lid knob
Open, angled, ergonomic handles for easy grasping
CorningWare® French White® Cookware Limited 1 Year Warranty
Corelle Brands LLC will replace, or exchange for product of equal value (at Corelle Brands' option) any CorningWare® aluminum cookware that is defective in material or workmanship within 1 year from the date of the purchase.
Damage from overheating or improper use of the aluminum product is not covered by this warranty, nor is scratching, discoloration, or other deterioration of the coated surface. The owner must follow the Safety and Usage Instructions provided with the product. Should a warranty problem develop, contact Corelle Brands Consumer Care Center at 1-800-999-3436. KEEP THE PRODUCT. You may be asked to return it.
Incidental and consequential damages are expressly excluded from this warranty. Some jurisdictions do not allow the exclusion or limitation on incidental or consequential damages, so the foregoing limitations or exclusion may not apply to you. This warranty gives you specific legal rights, and you may also have other rights which vary from state to state.
CORNINGWARE is a registered trademark of Corning Incorporated, Corning, New York 14831, used under license by Corelle Brands LLC, FRENCH WHITE is a registered trademark of Corelle Brands LLC. Distributed by Corelle Brands LLC, Rosemont, IL 60018.